Audit and Reporting Changes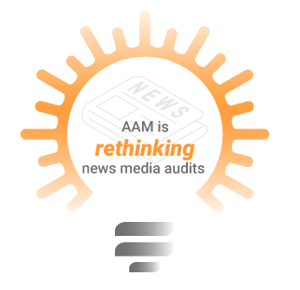 AAM is announcing a new initiative to modernize the news media audit and reporting process by offering more intuitive guidance and flexibility resulting in a less time-consuming audit for publishers while still preserving valuable planning data for media planners. The changes—developed with key industry leaders and with full support of the AAM board of directors—simplifies AAM rules, streamlines reports and eliminates extraneous data and requirements. Some of the highlights include:
In this hub, we share a variety of educational resources to help news media and buyers better understand how these changes are designed to reflect the current news media industry while continuing to foster relationships and business transactions built on trust and transparency.
Frequently Asked Questions
AAM covers what publishers need to know about the new audit and reporting changes. Read more.
Points of View
Tip Sheets
Publisher's Statements
These twice-yearly reports are more concise and streamlined.
Changes in Detail
Here we take a closer look at some of the changes